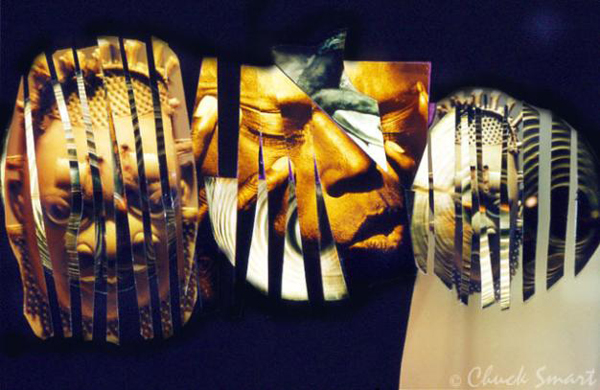 "Death Mask," by Chuck Smart, is one of the works that will be displayed during the upcoming Silverdale Art Walk to be held June 22.
Art Walks Seeks to Kickstart Old Town Silverdale
by Patrick McDonough
June 19, 2012
Central Kitsap Reporter
The people behind the Silverdale Art Walk seek to change the way the Old Town Historical District is viewed as well as the way the community views itself.
The next art walk, to be held from 6 to 8 p.m. on June 22, will continue in the tradition of art walks in the district, with art displayed in multiple businesses and establishments in the district, but will also help introduce newer businesses.
Maria Mackovjak, coordinator for the art walk, said the district has seen changes over the past years with businesses changing hands or closing their doors and in some cases new businesses opening.
She said the art walk was seeking to reinvigorate itself and sought to change the frequency of the walks from four times a year to six to continue the event's efforts to have the public view Silverdale as more than just a mall community.
"I am surprised at how much of the public doesn't know we are here," she said speaking of the shops in the district.
Old Town Custom Framing and Gallery, owned and operated by Mackovjak, will be among the businesses to host local artists such as Chuck Smart whose work will be on display in a retrospective of his career titled "Time Was" at her gallery.
Smart was a local artist whose work Mackovjak said was among the many artists in the area to be sometimes overlooked despite being of a world class caliber and whose work was a part of the present and future of the community.
She said it is important to view local art and consider investing in it because of the local artist's connection to the community.
"You are getting not just a piece of art, but a piece of Silverdale itself," Mackovjak said.
Previous art walks had helped to introduce Laura Zander, the new owner of Add to Heart Photography, to the community.
"I think it is great for my business and all businesses down here and it helps raise awareness of local artists in the community," she said.
Other local venues involved in the June art walk include Monica's Waterfront Bakery and Cafe, Silverdale Auto Works as well as the Silverdale Library.
For Mackovjak, the art walk speaks for itself.
"It helps Silverdale invest in Silverdale," she said.