Creativity starts for me when my foot touches the floor in the morning.
– Miles Davis
Wayan is the name given me by my friends in Ubud, Indonesia. It means first born. I was deeply touched by the art, artists, music, use of color and, most of all, by the warm and giving people. I learned things about my life as the maker of music and art that I could only have learned from these people.
The result of what I learned I call mind-viewing, The process: go to the studio, turn on the lights, look around at my space and my tools. What I see are brushes, paints, pens, pencils, paper, canvas, easels, cameras, computer, CDs and CD player and my chair. Without thinking too much, I pick up a pen or a brush or the stylus for my digital tablet and begin to make things. I continue until I come to the end, then stop. Sometimes the stopping occurs hours later, sometimes days later. Or sometimes things are put aside and I come back months later. The main thing is not to think about the art world and what's acceptable and what's not, but to use all the tools at hand to capture the viewing of my own mind.
The path is based on what has gone before. The view ahead is made up of things I've never seen. I can't wait till morning.
---
The making of art for me is a matter of senses (what I see, hear, touch and taste), tools, comrades and a myriad of variables too numerous to mention.
Comrades may be the most important of all. I trust the finished work that often results from the interaction with select fresh thinking comrades. I cannot emphasize enough the importance of this synergy.
---
Much of my work looks back at the viewer from under a glass, as if it were a window and the viewer the objet d'art. I believe this to be true. We are works of art and yet we often see each other only as fleeting glimpses.
I very much enjoy living with these images and they seem to like being alive, rich with rhythm, color and a kind of poetry that is meant for the viewer.
---
For the past eight or so years, I have worked to develop a personal style in the fairly young and not yet institutionalized world of digital fine art.
The pursuit of this idea was not popular, to say the least, with many artists and other aficionados of fine art. Nonetheless, I felt drawn to this new media and persevered.
Today, as I look back at what has evolved, I have no regrets. I am, in fact, more excited than ever at what is over the artistic horizon in this pursuit of visual expression.
Charles Morgan Smart
April 2004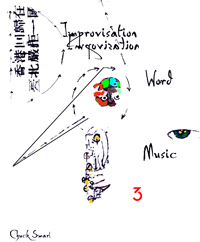 I began to understand how to be a human being and an artist.

Don't give me a key, chord changes, nothing.

– Ornette Coleman